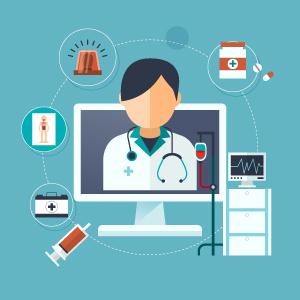 As of today, CBC pensioners and employees have access to a virtual health network.
The Pensioners National Association along with the CBC and its Unions have agreed to provide the confidential service free of charge.
The one-year pilot project comes at a time when it's often difficult to make a doctor's appointment, fill prescriptions, get referrals to specialists or ask those personal medical questions.
The virtual health network called Dialogue is a service administered through Canada Life.  It can be accessed through an app installed on a smartphone or through other mobile devices. It operates 24/7 in both French and English.
One click away from a medical consultation
During this critical time of heightened need, the Consultative Committee on Staff Benefits (CCSB*) has agreed to temporarily fund the new virtual healthcare.
What is Dialogue?
Dialogue gives you access to healthcare professionals via a mobile or web app. You will be able to chat – or consult via a secure video – with a nurse for any questions related to your health, or a doctor if a diagnosis or prescription is required. All of this with complete confidentiality. You can also consult other health professionals that may be covered by our Supplementary Health Care Plan (SHCP). About 70% of typical walk-in clinic cases can be addressed via Dialogue, including:
Receive or renew prescriptions;
Request blood work or a referral to a specialist;
Consult for minor conditions (allergies, UTI, infections, etc.);
Ask questions related to your children's health;
Consult the medical team for any questions related to stress, insomnia and anxiety.
Click here to learn more about the different areas covered by Dialogue.
When and where can I use the service?
You can use Dialogue if you are physically located in Canada. The service is available 24/7, but the medical scope of practice will exclude some services outside of regular hours (for example, you will not be able to refill a prescription at 2:00 a.m.).
The regular hours of the Dialogue clinic in all Canadian time zones, local time, are:
Monday to Friday, 8 a.m. to 8 p.m.
Saturday and Sunday, 10 a.m. to 4 p.m.
How do I sign up?

Go to https://www.dialogue.co/canada-life-cbc using Google Chrome, Safari or Firefox. You can also download the app Dialogue Health on your smartphone.
Click on 'Create Account'.
On the next screen, click on 'Get Started'.
Enter your first name, last name and date of birth.

Follow the instructions to create your account

(you will need to provide your CBC/Radio-Canada ID number and

the plan number/code 177815

as the Canada Life Policy ID)
Information on COVID-19
Dialogue is also up to date on the latest information about COVID-19. They have made available a FAQ here, as well as a virtual medical assistant named Chloe who can answer your concerns about the virus directly in the Dialogue application, or online. For any questions, you can reach their team at canada-life-support@dialogue.co. We hope this new benefit is helpful to you and your loved ones in this challenging time.
*The CCSB is comprised of union and management representatives and is responsible for making recommendations about employee-paid benefits. In addition to CBC/Radio-Canada management, the CCSB includes The Canadian Media Guild (CMG), the Syndicat des communications de Radio-Canada (SCRC), Association of Professionals and Supervisors (APS), Association des réalisateurs (AR) and CBC/Radio-Canada Pensioners National Association (PNA).