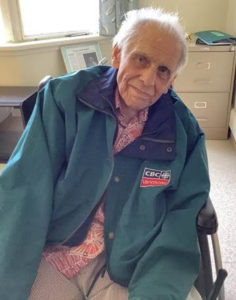 Early in February you may remember the message reporting that Henry Thompson (CBC Vancouver Technical Storesman from 1982 to 1992) had moved to a long term care residence in Burnaby, B.C. last year and that in the months since then, his treasured CBC jacket had gone missing.  Henry was very upset at losing this very special memory of the years he loved working at CBC Vancouver, and when his niece Thereza was unable to purchase a replacement, the call went out to ask if anyone had a jacket they would be willing to part with for Henry.
The response was amazing with jacket offers from Kathleen Gilfillan, Karen Tankard and Bob Glumac, requests for Henry's contact information, and messages of caring from colleagues who couldn't offer up a jacket but wanted to be supportive.  Both Henry and his niece Thereza were thrilled that so many reached out and Henry was emotionally overjoyed with the jacket offers and messages.  Photos of the three jackets were shown to Henry and he chose the one offered by Kathleen Gilfillan which she quickly packed and dispatched to the care home.
Henry and Thereza have asked that I convey their heartfelt thanks to Kathleen as well as to Karen and Bob for their offer and to everyone else who responded.  I would like to add my thanks too!  The happy ending to the story is the wonderful photo of Henry that accompanies this message with his gift jacket from Kathleen.
If any of you would like to reconnect with Henry, he would love to hear from you.  While he cannot respond personally to cards, letters or e-mails, he would enjoy reading them.  He can enjoy telephone conversations and video chat using the Face Time application can be arranged by the care home for him.  For Henry's contact information, please get in touch with me.
Peggy Oldfield
BCY Region