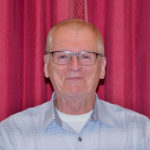 Dear members,
Following Alain Pineau's resignation, Donald Langis, currently the Francophone Vice-President, will assume the duties of Interim President of the CBC PNA, effective immediately. He will be supported by the members of the board to ensure a smooth transition and to provide continued service and support to our members.
We would like to thank Alain Pineau and recognize his dedication to the organization and its members since May 2021 as President and, prior to that, as a member of the board of directors. During his presidency, the PNA established a governance structure to support the association's strategic objectives of recruitment, equity, diversity and inclusion, better communications and advocacy for members. We wish him the very best.
Under the interim leadership of Donald Langis, we will continue to build on this foundation. We will work to increase the number of members, to ensure more diversity among our membership and particularly, among our leaders, and to improve relations with the CBC.
Donald has been an active member of the PNA. Prior to becoming VP, Donald was a member of the executive for the Maritimes Region before becoming President of the Moncton chapter in New Brunswick.
Donald will remain Interim President until the next Triennial Convention in May 2024, at which time all members will be able to vote for a new PNA President and Vice Presidents.
Look for Donald's first President's message in the next issue of CONTACT, slated for publication in April.
CBC PNA Board of Directors