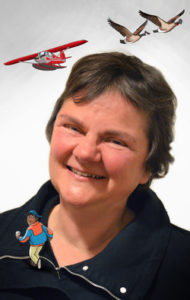 Biography– She left the Masters Program in History at University of Victoria to work for Radio-Canada in 1974. She worked for the national broadcaster in Vancouver for over 30 years as a radio host, interviewing countless artists, political figures, and citizens of all walks of life, on a daily basis. Now retired, she writes for newspaper and magazines in French and in English. She continues to study and travel with family and friends, and still lives in Tsawwassen, BC, where she put down roots after living in the provinces of Quebec and New Brunswick.
In 2009 in BC I entered the blessed age or retirement where one could fill the days with one's passions. Since then, eight of my kids' stories have been published in French and I translated four of those stories in English. Both in English and in French, they were picked up by different publishers across the country and their locales also represent different parts of our vast land, from the Yukon to the Prairies, BC to Acadia.
For instance last November, Vancouver's PNO published L'Hydravion et la caverne mystérieuse that takes place on the western side of Vancouver Island. In February 2021, Moncton's Bouton d'Or Acadie brought forth La Promesse du bout du monde also camped on BC's shores but with a deep link with Acadia. None of that would have been possible without the free time our pension plan allows us and for which I am truly grateful.
If that makes you curious, visit my bilingual site