On March 14 w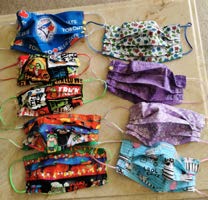 hen the lockdown was announced I was more than happy to just stay home and relax.
At first, like many of us, I thought it would be the perfect time to get to those 'projects' we all have but keep putting off until we have more time to dedicate to them.  Well, it only took a few weeks until I realized that cleaning out my clothes closet, finally sorting the boxes of old photos or, like some of my other family members and friends, baking up a storm.  Nope, not for me.  None of these made me happy.
When it was announced that wearing a mask was going to be mandatory, my cousin started making cotton masks and I purchased a few.  They were great especially the ones she made for Canada Day.  After a while I decided to watch some tutorials online on how to make an 'easy' mask.  It only took a few minutes to find the perfect pattern for me and got busy going to the fabric store and choosing some really great fabrics.
I have made approx.. 25 masks and I am loving every minute.  My favourite part is finding a colour or theme fabric and match them to the person that I am making the mask for. I especially love making theme masks for kids, Holloween, Xmas, Spider Man etc. The more they like the mask the more they will wear them. The older kids have to wear their mask ALL DAY AT SCHOOL. They are real troopers in all this.
My advice, especially during the second wave of Covid 19, is to find something that really makes you happy, that makes you smile rather than doing things that you think that you should be doing.
Stay safe and wear your mask.
Patricia St-Germain
PNA Member, Ottawa