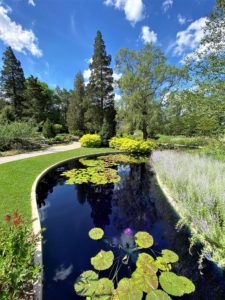 It was March 13, with the arrival of Spring tantalizing close, when the COVID-19 pandemic forced the Royal Botanical Gardens to shut its gates. It is Canada's largest botanical garden. The RBG covers 2,700 acres and boasts 27 kilometers of trails. It is also a National Historic Site and is recognized by UNESCO as a World Biosphere Reserve.
The closure of the RBG, headquartered in Burlington with properties in neighbouring Hamilton, affected everything from weddings, conferences and camps to the public's use of its gardens and natural areas.
All programs for March Break, traditionally one of the busiest periods on the calendar, were cancelled. Eventually Easter Brunch and Mother's Day events met the same fate. "We realized that if we were going to reach people, we were going to have to do it online," says Barbara McKean, the Head of Education. And with that, the RBG's virtual gates opened wide, with the launch of RBG at Home.
The goal was to develop and post online resources to help parents and teachers engage with children learning from home. The other target? Grownups looking ahead to gardening season. "We were online with some activities the first week of April.
It was a lot of pressure on staff to come up with this new initiative so quickly. We were trying to diversify the offerings that we had, to provide a little bit of everything for everybody," says McKean. And it didn't stop there: "We were all taking our phones out and pulling together short videos and finding, wow, this had 9,000 views. It was remarkable how quickly that took off." If people couldn't see the tulips and magnolias bloom in person, they could at least appreciate them virtually
The team also started offering free interactive family-oriented video conferences, in English and French. While the RBG has been producing video conferences for children around the world since 2007, this initiative was another boon for schools and families trying to pivot to online learning. Based on its many years of offering these programs, the RBG was recognized this fall as one of the top 15 virtual field trip content providers in the world. Still, the public was starved for the real thing. Crowds flocked to the nature trails that opened for hiking and birdwatching s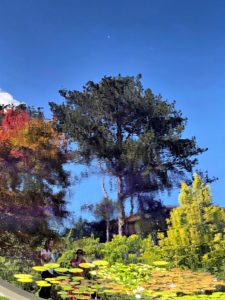 tarting in May. The Arboretum welcomed visitors late in the month, for the blooming of the lilac collection. The Rock Garden, Rose Garden and Laking Garden's iris display soon followed. " When people were cooped up inside and not getting out much, there was a real pent-up hunger for being in green space," says Barbara McKean. "We've been getting a lot of first-time visitors—people staycationing and trying new things in the area."
Steps were taken to encourage social distancing. Certain trails and loops were marked "one-way." People were encouraged to visit in small groups. And early in the reopening, some parking spots were blocked off. It wasn't all to keep humans safe. "It was about keeping the landscape safe as well," says McKean. "We have been getting a lot of visitors who don 't normally do this kind of thing, and there's been an increase in the amount of litter showing up along the trails, and in erosion where families have been letting their children run off the trails. In certain areas you can really see the wear and tear."
The RBG has also had to educate visitors on the hazards of spreading food for wildlife. Excessive amounts of seed, corn and baked goods left on the ground were starting to hurt, rather than help, the birds and animals. For the remainder of 2020, with the weather turning cooler, courses and experiences will be online. And, as with everything else this year, holiday celebrations will be different from those in the past. The plan is for a fully outdoor experience, called "Winter Wonders," featuring an evening light show. Looking ahead to its 80th anniversary in 2021, the RBG will offer a rainforest experience, called "Under the Canopy," starting in mid-January. The physical component will take over the entire main building. There will be live animal exhibits, including sloths and marmosets, plus plenty of online material to add to the adventure. If you can't get away to somewhere warm this winter, a trip to "Under the Canopy" could be just the ticket.
Marie Clarke-Davies
PNA Member, Burlington