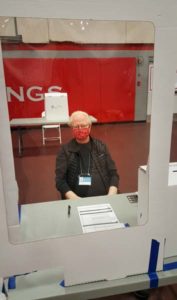 More than 13,000 people worked at 1,100 polls during last October's provincial election in Saskatchewan.  Among them was retired CBC staffer Paul Grant, who filed this report on pandemic-style polling.  The way our polling place was set up, you'd think Saskatchewan invented social distancing.  Three polling stations were spaced across one end of the half-acre high school gym like feeding stations in a pasture. The floor itself was covered by plastic sheeting on which blue masking tape arrows showed the way to each station.
Industrial-sized bottles of hand sanitizer were at each of the polling stations. Voters were greeted by masked election workers sitting behind a large cardboard window with a crackly cellophane pane like a birthday cake box.  The window was tenuously affixed to the table by more blue tape.  Although most voters were masked, they held their photo ID up to the window or shoved it through a slot for closer examination.  They were given a ballot and a golf pencil and directed to mark their ballot behind the usual cardboard privacy screen. The ballots went into a sealed box and the pencils were recycled, although some people took them home. Throughout the voting day the polling stations were also disinfected regularly.
When the polls closed, the votes were counted and phoned in and the ballot box was sealed.  My wife and poll partner Laurie Dickson had been diligently tracking the vote all day, so all the tally
sheets matched.  We sorted the paperwork into a dozen different envelopes, loaded everything into the car and ferried it across town to the constituency office where, with military precision, masked workers took it all inside.
Working elections, even during a pandemic, is a tonic for cynicism.  One old fella pushing a walker took forever to inch his way across the gym floor to vote. But vote he did, in the middle of a
pandemic and even though it probably took him half the day to get the job done. Democracy doesn't demand much, but it does ask you to show up, even if keeping your distance and disinfecting your hands are part of the deal.
Paul Grant, Moose Jaw, SK
You can read more articles in The Transmitter newsletter